Valimai Tickets Sales Contacts Near You to book FDFS
Valimai Tickets Sales for first day first show is trending everywhere. AjithKumar Sir movie Valimai tickets are selling like hot cake. Book.
Valimai Tickets Sales is ON: Valimai Tickets are Selling hot and Ajith Fans are arranging tickets for their fans across Tamil Nadu. Here you can check where and when the tickets are available, show timing, contact number and more Valimai Updates and #ValimaiTickets updates.
Valimai Tickets: Extraordinary advance booking for the film all over Tamil Nadu even for a working day release on Feb 24th (Thursday). Happens for one & only #Ajith, The King of Opening!
Bookings going on full swing for #AjithKumar sir #Valimai 💥 #ValimaiTickets demand is unbeliever for a normal weekday.
ValimaiBookingsRampage everywhere,will be a record breaking opening for sure👍🏼 grab ur tickets in counter starts (10:30am-10:30pm). Due to huge demand for #ValimaiTickets for first day more screens reservation start tomorrow. Max 980 to 1000 screens on opening day
Valimai Tickets in Kumbakonam
@vasutheatre 24Feb 8am ticket available Contact 8825959500 #Valimai || #AjithKumar || #AK || #AK61
Finally tickets are selling now for FDFS #Valimai can't wait the hype gets increasing day by day and its gonna be in the best theatre of kumbakonam #ValimaiAtVasu @vasutheatre 💥🔥
@vasutheatre 24Feb 8am ticket available

Contact 8825959500#Valimai || #AjithKumar || #AK || #AK61 pic.twitter.com/n7Q71yWSj0

— AJITH FC MAYILADUTHURAI💫 (@AjithFC_MDT) February 21, 2022
Valimai Tickets in Thirupur
Tirupur – Usha cinemas Booking just started and already filling fast – Ajith Fans in Thirupur can book now…
Priya Cinemas – Madurai @Priya_Cinemas
Opening Show 4.00 AM ⏰ Available @Priya_Cinemas 🎭 (Only Counter Sale)
Rohini SilverScreens @RohiniSilverScr
Bookings open now for the most expected film #Valimai Both online and counter for regular shows at #FansFortRohini
Tickets for 7AM show will be available in the counter from 12PM onwards. #ValimaiatRohini #FansfortRohini #Valimai
Let the #Valimai Rage begin 🔥🔥#ValimaiAtRohini
Valimai Booking Open at @TheVetriCinemas Madurai
Book your tickets @bookmyshow as Valimai Booking Open at @TheVetriCinemas Madurai. #Madurai #theni #bodi
Uma Rajendra Cinemas – @UmaaRajendra
Day 1 completely sold out and only tickets for Day 2,3 and 4 will be issued at counter today. Grab whichever show that is available and witness the rage in the big screen ⚡️ #Valimai #ValimaiAtRajendra
Woodlands Theatre
Woodlands First Day 11:30 AM show Tickets Available 😍🔥🔥🔥 #Valimai #AjithKumar #ValimaiFDFS
Sivasakthi Cinemas – Chennai Padi
Valimai online Booking opened in Chennai💥💥💥 #AjithKumar #ValimaiFDFS
ValimaiInRamCinemas || #Valimai
Today Only Great Deal 50% Offer. Watching Valimai With @studio9_suresh Anna. 200% Mass Celebration Guaranteed
TICKET PRICE 300rs ONLY. A Few Tickets Available At @RamCinemas Counter Grab ur Tickets 🔜

@CLEOPATRACinem1 #ValimaiTickets
Valimai #FDFS Tickets Booking Today Evening http://6.PM.. Tickets Available Theatre Ticket Counter Only..Book Your Tickets ,Enjoy The FDFS 😍😍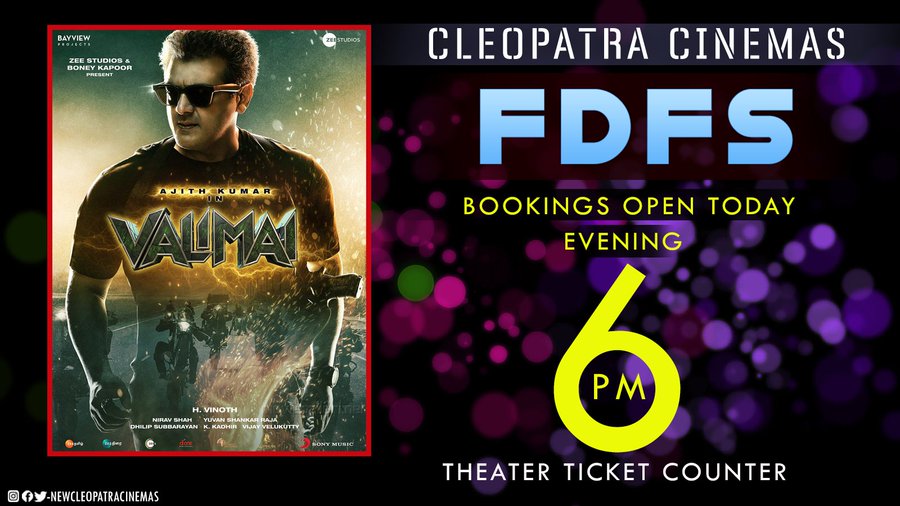 Valimai Tickets for FDFS in Thiruvarur
Thailammai Theatre / Cinemas is selling tickets for the FDFS 3 am show.. Check out the counter for tickets.
Vasu Theatre Tickets
Vasu Theatre @vasutheatre 24 Feb Fdfs & 8am ticketavailable Contact :- 8825959500 @AjithFC_MDT#Valimai#ValimaiTickets#Ajithkumar
Valimai Tickets in Thiruvelveli
8AM Show Available In RAM CINEMAS,Tirunelveli… Contact The Below Number For Tickets.
Contact Number : +91 99409 31616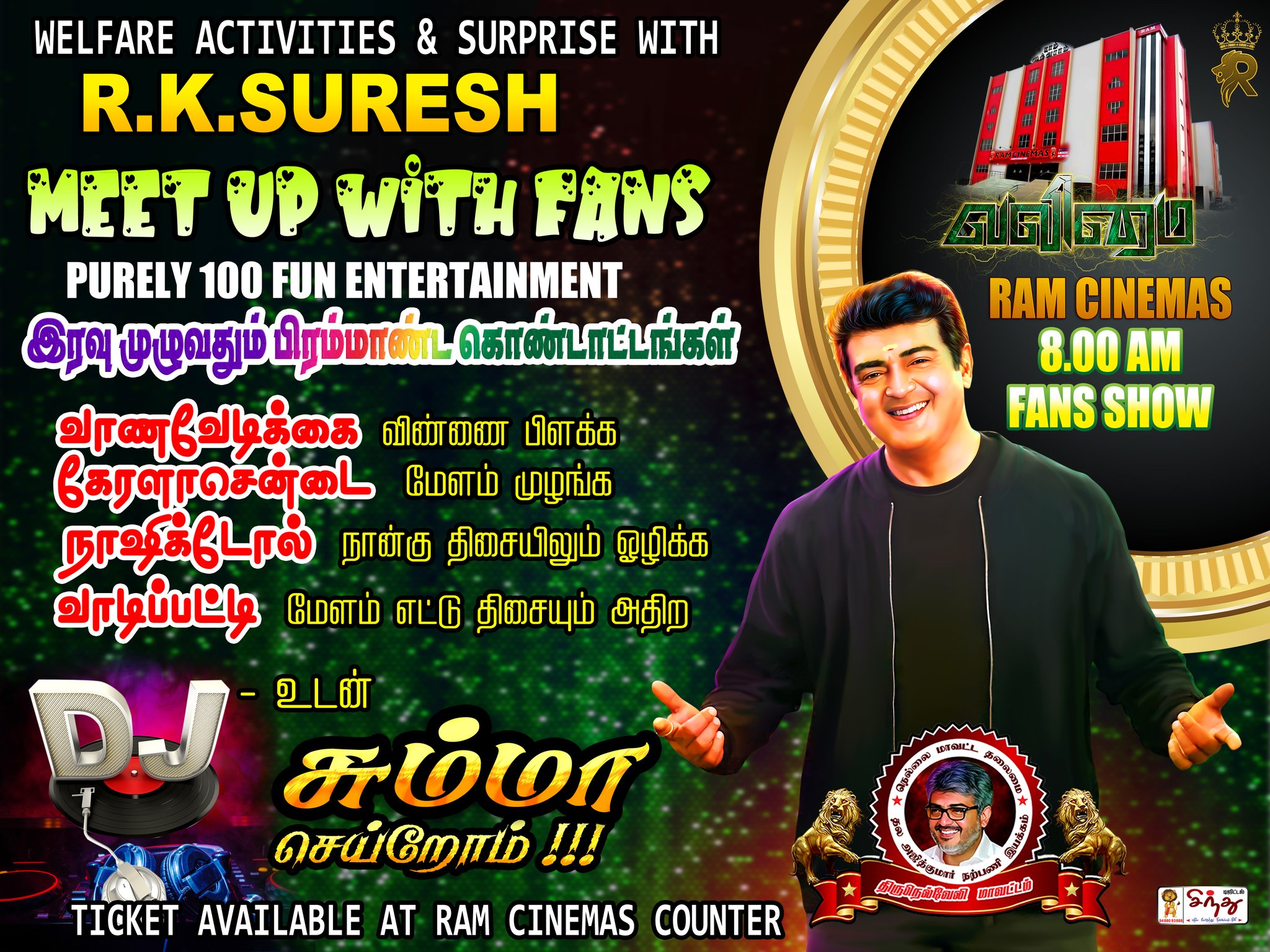 Madurai Gopuram Cinemas Valimai Tickets💥💥💥
Ticket available ❤️ Time : 4am Show | Grab ur tickets Soon | Contact : 8428519434,8903457411
Radha Movies Park Redhills – Valimai
#Valimai 4am ticketavailable anybody needs dm @ThamizhJustin @ValimaiTickets
Charan Theatre Valimai
#Valimai #ValimaiFDFS Tickets Available | Charan Theatre | Contact : 95977 93233 / 88830 13276
Stay tuned @TT_AFC #ValimaiFromFeb24th #ValimaiThePower #Ajith #ValimaiTickets